For a Scottish town or village, the Mercat Cross was a symbol of its trading status. Around it, public markets and fairs were held, and proclamations made. Another function played by the cross was as a site of punishment.
Duns Mercat Cross, located in a prominent position on the south side of Market Square, was first erected in its current form in 1792 on the north side of the Square in front of the White Swan Hotel. The cross was taken down in 1816 to make way for the Town House. It was re-erected in the Public Park in 1897 to mark Queen Victoria's Diamond Jubilee. It remained there until 1994 when it was returned to the Market Square as part of an improvement scheme for the area.
The markets of Duns were held weekly on a Wednesday, and there were three annual fairs for cattle, quarterly markets for sheep, and hiring fairs when farm and domestic servants were hired for 6 to 12 months.
Cross the road into the pedestrian area in the middle of the Market Square
You are standing on the site of the former Town Hall. This building, also known as the Market House, was built from local stone around 1816 by notable architect James Gillespie Graham. Sadly, this impressive building was demolished in 1966.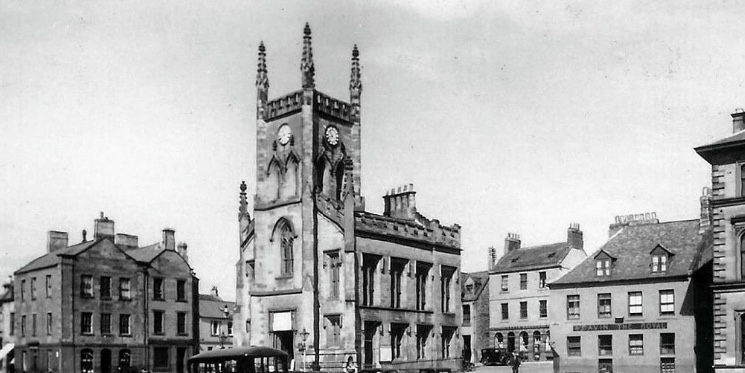 Old Town Hall
On one side of the Town Hall was a grocer's shop — William Plews, which later moved to premises in Murray Street. On the other side, upstairs, was a Pringle's knitwear factory, where parts of knitted garments were sown together.
Pringle Knitwear
Look east towards Easter Street leading out of the Market Square. Notice the way the street is framed by two prominent buildings. On the right is the old British Linen Bank — now the Bank of Scotland. This building dates from 1928 and has a distinctly Scottish feel to it, with the narrow windows and piended (hipped) slated roof.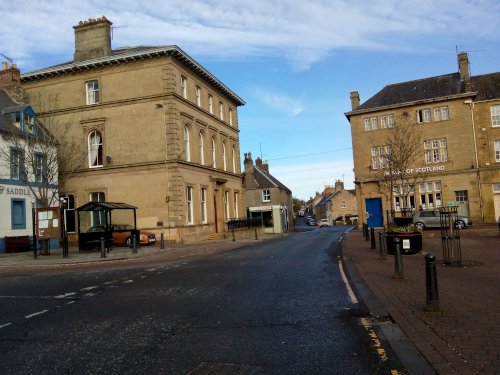 On the left is the former Royal Bank of Scotland building, which was designed by Peddie & Kinnear in 1857. If you look carefully, you can see the initials PK carved on the top left quoin. This is a strong looking block, which is influenced by Italian architecture. The bank was built on the site of the Red Lion Inn and the bank manager originally had his residence on the upper floors.