Boston House was the birthplace of the preacher Thomas Boston who lived from 1676 to 1732 and was the son of a Covenanting minister. His father had been imprisoned for his beliefs and these experiences influenced Thomas in his writing and preaching. These helped prepare the way for a split in the Church of Scotland in the mid-19th century and the formation of the Free Church, a period known as the 'Disruption'. The Free Church in Duns and its school were named in his honour. Boston House had a thatched roof but burnt down and was rebuilt in 1893.
Corn Exchange
Farther along the street beside the walkway down to the Co-op supermarket (opened in 2006), and including the car park area was the site of a garage and before that the old Corn Exchange of 1856.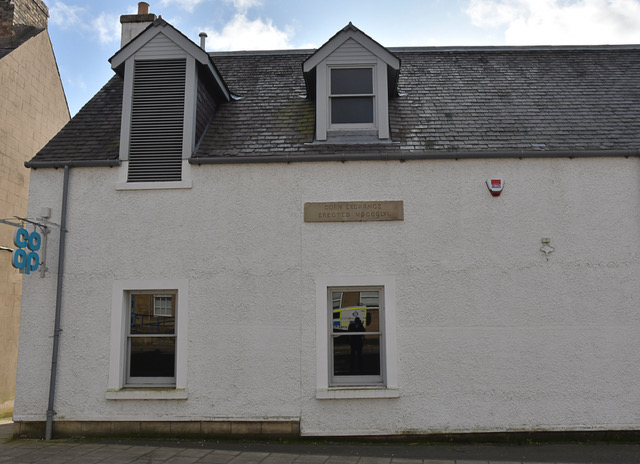 You can see the stone in the wall on which is carved the words 'Corn Exchange Erected MDCCCLVI'. This was where on a weekly basis merchants and farmers from the surrounding area bought and sold corn and where other agricultural business was conducted.
Retrace your steps and walk south down Black Bull Street