22
Jim Clark Motorsport Museum
Along on the left is a 19th century villa which houses the award-winning Jim Clark Motorsport Museum, which was redeveloped and reopened in 2019.
Jim Clark was born in 1936 and lived most of his life in Berwickshire after his parents moved to a farm in the area. He was a charismatic figure who started motor racing in 1956 and made his World Championship début in 1960 for Lotus, recording his first win the following year. He became Formula One Champion in 1963 and again in 1965, a year in which he also won the Indianapolis 500 race in America.
He was granted the Freedom of the Burgh of Duns in 1965, the highest honour the town can bestow on a person. Jim Clark died tragically during a Formula 2 race at Hockenheim in Germany in April 1968.
The museum is visited by large numbers of motor racing enthusiasts from all over the world. There is also a Jim Clark Trail available, which covers many of the sites associated with his life and career. He is buried in Chirnside Churchyard, 12 kilometres (7 miles) to the east of Duns.
Cross the road from the museum and walk through the car parking area to the front of the building. This was the main entrance to the school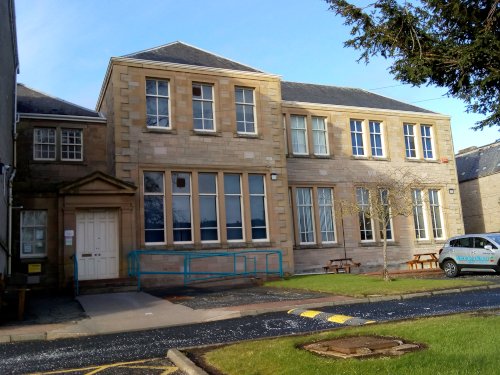 Original Berwickshire High School
Opposite the Museum is the first Berwickshire High School, later a campus of Borders College, built in 1896 and extended in 1910 and used as such until the opening of a new school in 1958 on the western outskirts of the town.
It incorporates and overlays a late Georgian villa called Ivy Lodge, whose end is still visible with a ground floor Venetian window.
Back on Newtown Street is Duns Library on the same side as the old school. The present library was built in 1939 but has been described as 'barely conscious of the 20th century in architectural style'. It has a harled Jacobean front gable. Duns was one of the first towns in Scotland to have a library.
Continue east along Newtown Street to its junction with Willis Wynd and Gourlay's Wynd