The Volunteer Hall was created as a drill hall suitable for the 2nd (Berwickshire) Volunteer Battalion, King's Own Scottish Borderers. It was built by public subscription and opened in 1895, at a ceremony attended by over 1,000 people. Many men went from here to Gallipoli in 1915.
The Volunteer Hall is now a multifunctional venue, hosting more that 500 events in a typical year. Being the largest venue in Berwickshire, with level access, it is well used for civic and social events. It is currently being assessed for a significant capital investment, aiming to provide bespoke community, social and educational facilities.
A house opposite the Volunteer Hall is a late 18th century building with scroll skewputs (supporting stone at the corner of the gable). It has a metal plate with a thistle and the word 'Caledonian' which indicates it was insured by the Caledonian Insurance Company.
On your left a little farther along is a house called Westways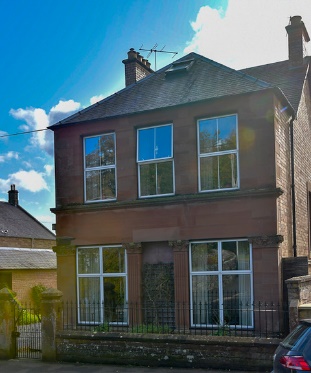 This dates from the early 20th century and was formerly a monumental mason's premises, with a flat above. Note the fine carvings on the front of the building, depicting an owl, lion's head and cherubs. This was obviously a visible advert for the quality of the owner's work.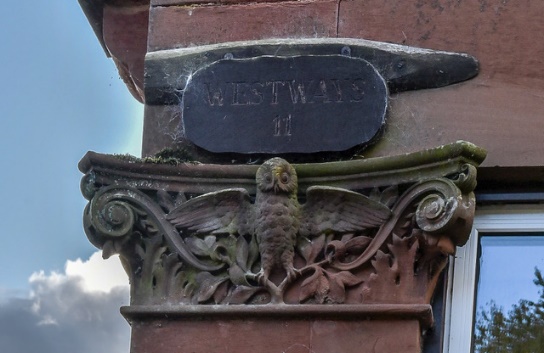 From here continue to the main road, turning right onto New Road, then up the hill onto Newtown Street
This end of Newtown Street saw traders buying and selling horses in the 19th century.
On your left set back from the road is the Fire Station, manned by retained firemen volunteers.
Duns was one of the first to have a fire engine — which served from the 1810s to the 1930s (Trafalgar to the Blitz!). It is the oldest surviving example in Scotland, now in the care of the Scottish Fire Museum in Edinburgh.
In an area that you will have already visited, near the old Ewe and Lamb on the bend at the junction of Castle Street and Teindhillgreen, there is an area to the north of the pillared entrance into the Manse, which was known as the Clay Road. On this corner was an old shed known as Fire Engine House. Later, before the new fire station was built in Newtown Street, the fire engine was kept in a yard adjacent to Duns Primary School and there was a building known as 'The Fire Hut', which doubled as a classroom for the school and storage for the uniforms and equipment. An interesting time for pupils being taught among the belts, helmets and axes!